The Friends of Hope program allows you to partner with us in the ongoing care of the girls provided through our home and school by giving your monthly support. Light of Hope meets the physical, emotional and spiritual needs for these vulnerable girls in a 24x7 safe environment.
Becoming a Friend of Hope creates an opportunity to develop a very special friendship with a specific girl. It's a monthly commitment to cover all or a portion of the expenses of a girl and to write letters sharing life and encouragement as she grows. You'll have the chance to exchange pictures, share stories of your life, and to pray for her which helps to provide emotional and spiritual encouragement.
The total cost to cover her room, food, education and medical care is $2,500 a year. A monthly gift of $210 will cover all costs for one girl. You may consider asking family, friends or small group members to join you in fully supporting a girl. There are more than 130 girls at Light of Hope looking for support.
Join us - Become a Friend of Hope by making a monthly gift to cover all or a portion of the annual costs for a girl. Every monthly gift matters!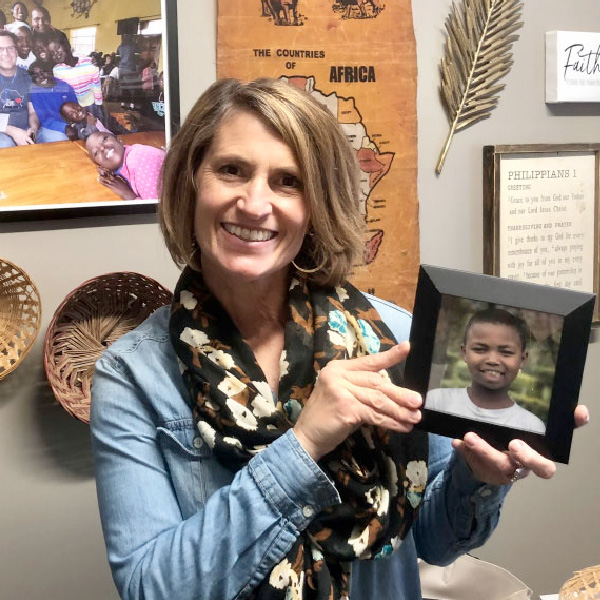 My reason for donating! Blessed by the photo that is a daily reminder of why we give the way we do.~ Laura A.
with a photo of her friend Jane W.
FAQs for the Friends of Hope program
It means that you have become a monthly supporter and you have entered into a supportive relationship with a specific girl. In addition to providing financial support, you are encouraged to exchange letters a few times a year to encourage her in her education as well as her emotional and spiritual growth.
All monthly gifts make a difference. It costs $2,500 a year, or $210 a month, to cover all expenses for one girl. This may be more than some other sponsorship programs because our costs cover a place to live, food, medical care, counseling and her education. Most other sponsorship programs do not include 24x7 housing.
Select a girl from above and follow the prompts for contact information and financial support. You will be contacted with a confirmation within the next couple of days from your submission.
When we have a person or team traveling to Light of Hope we send out an email to all Friends of Hope to let them know there is an opportunity to send a letter. We try to give at least 2-3 weeks to get your letters submitted.
You may include a small item that would fit inside a regular size envelope like a bookmark or small bracelet. Your envelope will be delivered with the next traveling team, which typically happens 2-3 times a year.
To protect everyone's privacy all letters are processed through the office email address.
It is not a good practice to give personal information like email address, home address or phone number to your Friend. It is also not appropriate to connect to your Friend on social media while they are attending high school or university and participating at LOH.
Tips for writing letters to your LOH Friend
We are so glad that you are writing to your Friend at Light of Hope! This is an incredible opportunity to encourage her and to be blessed as you get to know a young girl who lives in Kenya!
Do not make writing letters more difficult than you need to! Keep it simple and short. A letter should be a way of learning more about each other over time. No need to share everything or ask all of your questions in the first letter or two.
Think of a younger person that you may know of a similar age and think of what you'd share with them.
Tell her about your family –either your family as you grew up or a current family story. Try to avoid specifics that may accentuate the economic difference between you and your child.
Share a hobby or interest that you enjoy doing: crafts, activity, gardening, languages or music.
Ask about their schedules or interests.
Take time to encourage and build up your friend.
Did you enjoy school? Did you go to college? If so, what did you study?
Who inspires you and why?
What do you do to support your family – at work or at home?
Tell her about the weather here. What do you think of the current season?
Share a prayer request and/or pray for her.
Please include pictures in a Word Document or attach a digital image in your email that can be included with her letter.
Send your letter and any images to office@lightofhopekenya.org